The Internet is massive, which allows you to share your thoughts with the world. Whether you are an individual running a small business or a multi-million business entity, everybody needs a website to mark a strong online presence. Depending on your budget, you can either take the professional website development services or use the well-known DIY site-building packages to get you a website.
A well-optimized website helps enhance your web presence, lends credibility to your business, and builds trust in your visitors, thus boosting sales. Although it sounds interesting, but never been so easy to set up a professional-looking website. However, several site builders like WordPress, HostGator, WIX, and Weebly have enhanced their capabilities and are coming up with lots of flavors to benefit the users.
Let's look at how to choose the best website development platform in 2020 – whether you should hire a website development company or do it yourself through popular site builders. You will get complete clarity after reading this article.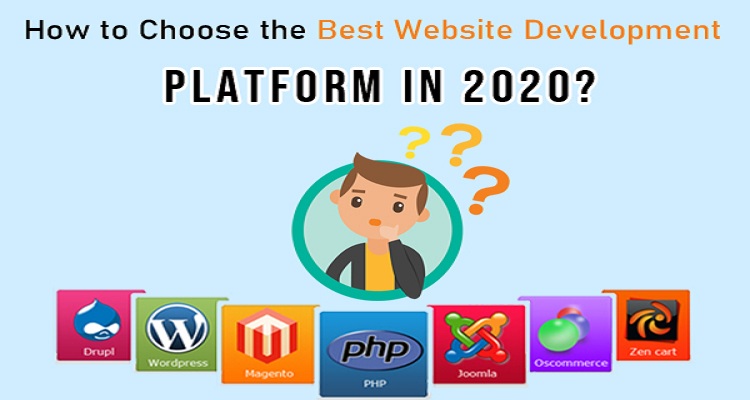 What to Consider While Choosing the Right Website Development Platform?
The right platform for one industry doesn't mean it's okay for another one. Choosing the right web development platform solely depends on the industry you need it for and your familiarity with the site development activities. Whether you need a website for a personal blog, an e-commerce website, or to create a company's website – analyzing the following factors will help you reach out to the conclusion faster.
Website's purpose and functioning
As we said earlier, the e-commerce website will need different functions in comparison to a blogging website. You will have to choose the website development services that allow you to frequently change photos, videos, and add a payment gateway. Moreover, you would never want to play with cryptic codes while doing all these kinds of stuff. Choosing the right platform saves you a lot of time and money (which you would have spent later on to clear the mess), thus adding your convenience to get the desired results on time.
Do you know to code?
That's another factor that you need to consider while choosing the right website development platform. If you know how to code, you can select a plethora of web developer solutions. However, if coding is one of your weaknesses, you must not mess up with a platform that requires you to code. A small error can crash your whole website. Instead, choose a platform that's code-free, with drag & drop facility, to create a website.
Price factor: Can you afford costly web development platforms?
It's the price that we are always concerned about while opting the web design and development services. It's so much important that we prefer to choose cheap services over the best ones. The right way to decide the money part is – have a crystal clear budget in your mind, explore all web development options and choose the one that fits right under your budget. Don't overburden yourself with bulky and costly services. Instead, earn and invest more money into later stages.
Aren't you tech-savvy? Choose simple platforms
Another essential factor to consider is using an easy to handle web development platform unless you are tech-savvy. In most cases, the user has to spend a lot of money and effort to rectify the issues after choosing the complicated platforms. Knowing about yourself and honestly accepting it will help you a lot in making a correct decision.
Customization is what you need
Lastly, many platforms don't allow you to customize your website as per your need. The competitive world requires highly interactive websites over the standard ones. That's where customization plays a substantial role. A wise decision in this aspect will help you attract visitors to multiple-folds.
Popular Website Development Services Platforms
Here we are highlighting several popular options that you can choose from, to create a website for yourself.
WordPress
WordPress.org is the most popular website development platform used by millions worldwide due to its powerful features, scalability, and open-source language. You will also have maximum control of your website with WordPress, and it's free to use.
Pros:
With WordPress, you get the complete control of your website.
You can build all types of sites with WordPress, such as e-commerce websites, personal blogs, social networking, community forums, and much more.
It has high-quality WordPress themes and 57000 free plugins that you can use to create an interactive website.
WordPress also has a drag and drop page builder like Divi and Beaver Builder to create your page layout.
Cons:
You will have to manage the website on your own completely.
You need to keep yourself updated with the latest WordPress plugins and updates.
Sometimes, you will need the developer's help to add a few code lines to get the desired results.
Pricing:
It's free to use WordPress, but you will have to spend money on the domain name ($14.99 per year) and web hosting ($7.99 per month).
Gator by HostGator
Gator is another popular website building platform from the largest web hosting providers globally, HostGator. It comes with web hosting along with site-building, making it a perfect choice for users worldwide.
Pros:
Gator lets you choose from more than 200 professional website design templates.
It's is fully hosted by HostGator; hence you need not worry about software, updates, and backups.
It's easy to use with drag and drop facility for images, videos, text, maps, contact forms, galleries, etc.
You get an option to create a stock photo library, from where you can add pictures to your website.
Cons:
Gator is not free; even it doesn't give a free trial like others.
Here you cannot hire a website developer to modify your website design.
Pricing:
It starts from $3.74 per month for a basic plan and goes up to $9.22 for the e-commerce plan.
Wix.com
Wix is another excellent website development platform that offers you the website's layouts and features with few clicks. Wix is a cloud-based site-building software. The following are the pros and cons of using this tool.
Pros:
Very easy to use. Even a novice user can create a website using Wix as it just requires you to drag and drop the elements.
You don't have to pay for hosting because it's a fully hosted platform.
It lets you choose from hundreds of free templates.
Wix comes with several apps that you can install on your website.
Cons:
Switching your website from Wix to another platform is quite complicated.
The Free and Connect domain shows Wix advertisements. You will have to upgrade to the Combo and Unlimited plans to get rid of ads.
Pricing:
Wix branded subdomain comes with a limited free plan. You'll have to pay $9.16 per month to connect a domain.
The combo plan starts at @$14.95 per month.
And the E-commerce plan starts at @$26.25 per month.
Pick the right website development platform
Picking up the right website development services and platform is a crucial aspect for your business. Careful evaluation of all parameters is a must while choosing the best website builder. Whether you are a beginner or experienced techie, whether you are creating a personal blogging website or developing an e-commerce site – all these aspects are important while selecting the right web development tool. Do tell us in the comment section which one you preferred while creating the website.