Technical SEO is the best thing you can ever gift to your website. While, ignoring this important aspect can make you lose the deserving spot on the search engine result page, even if your content is worth earning the top spot.
Making the right efforts for your website's technical SEO, can bring the successful results that you have been waiting for the months or years. How? Well, that's what we have covered here in this blog post.
You will be learning:
What is Technical SEO?
Why Technical Search Engine Optimization is important?
How Technical SEO can work for you?
Components you should include in your Technical SEO checklist.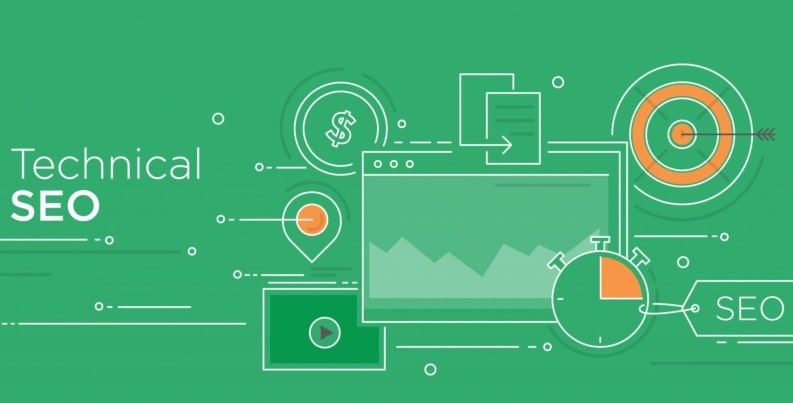 What is Technical SEO?
Technical SEO is a process to optimize your website so that the search engine bot can crawl, interpret, and index your site.
The above definition is a simple and straightforward way to understand what a technical SEO is and what it can do for your website. In simple words, with technical SEO, you are helping search engines to access your website, letting it know what your website is all about so that the crawler can gather and process your site's data to display it on relevant search results.
However, technical SEO is least concerned with your site's content. Instead, your website infrastructure is something that technical SEO focuses on. But still, it ensures that your content is delivered to the target audience without any hiccups.
Is Technical SEO Really Important?
Of course, it is! For your website to index faster, it should speak the same language that the search engine understands. That's where the technical SEO comes into action. It helps your website to align with what the search engine wants. Precisely said, working on the technical SEO makes your website navigable, highly responsive, and completely relevant. Here are some facts that advocate the need for technical SEO for your website.
It helps search engines like Google to know the worth and value of your website.
Investing in technical SEO removes the indexing and crawling issues which further helps in ranking your website on top spots on SERPs.
Technical SEO covers the technicalities of your website like site speed, managing the broken links, meta tags, and ensuring the site security.
How Technical SEO Works?
Technical SEO simply aligns your website with the search engine requirements. It has a clear motive to help the search engine understand that your website is worth giving value to the audiences. Technical SEO focuses on improving the site structure, hreflag, canonical tags, codes, internal and external links, 301 redirects, and 404 pages so that your website's crawability and indexability should not be hampered.
Technical SEO Practices that you Must Follow for Ultimate Success in 2021
Now as you must have got the complete clarity on what is technical SEO and why it is important for your website. However, that's not all, as the most important part is how do you implement technical SEO to achieve successful results. Here are the best practices that you should follow to get what you expect.
1. Focus on mobile-friendly and responsive website
With the rising number of mobile users, there is an evident need to focus on mobile-friendly websites. Even Google has started releasing mobile-focused updates like mobile optimization and mobile-first indexing. That shows the websites, not following the mobile optimization will be punished and penalized by Google.
2. Speed up your website
Your website speed has a direct impact on website traffic. The less time your website takes to load, the lesser will be the bouncing rate, and more people will retain and stick to your website.
Google itself displays the search results in not more than half-a-second time, which clearly shows how much it prioritizes the time speed factor. A study shows, more than 50% of visitors tend to leave the website if it takes more than 2 seconds to load. The following are the issues that need to be improved in order to speed up the website.
Caching issues.
Large media files.
An optimized JavaScript and CSS.
Use of excessive logs and entries from plug-ins in your database.
Missing files.
3. Add Structured data or Schema markup
Since Google has started using the Schema markup in search results, this technique has garnered high popularity. The schema markup or structured data is an embedded code that you can add to your website to help search engine crawlers understand the context of your content. Google displays it in the form of rich snippets which significantly boosts the ranking and enhances the SEO efforts.
The schema markup includes a rating of your website services, reviews, product-market events. Besides providing a detailed description of your services, schema markup also makes your website eye-catching as compared to the others in the competition.
4. Get Robots.txt to work
Just like schema markup, the robot.txt is also a series of commands that informs search engines about which pages or sections to be displayed for relevant search results. It's just like, you don't want non-subscribed people to land on the login page as it has nothing to do with them, the robots.txt blocks such pages.
5. Leverage Search Console Coverage
Having a regular health check of your website is another crucial aspect of technical SEO. Don't worry! You need not pay a hefty subscription fee to buy a tool, instead, you can use Google's Search Console Coverage that allows you to track the online performance like crawl errors and identifying the non-indexes pages. It tells users whether the page has been indexed or not. And if it is yet not indexed, then what was the reason. The following are some categories that your website may fall in Search Console Coverage.
Valid – Your page is indexed.
Valid with warnings – Indexed, but it has technical errors.
Error – Page not indexed due to server errors redirect error or 401 unauthorized HTTP response.
Excluded – Not indexed at all. Your site domain has some commands that are blocking Google from indexing the page.
6. Setup 301 redirects to avoid crawl errors
The crawl errors decrease your website's credibility and impact the traffic volume. It mainly happens due to the presence of 404 pages on your website that prevents users from getting the relevant information from your site. To eliminate such problems the use of 301 redirects is essential. When a user lands on an existing website with no longer relevant search query then 301 redirects send the users to a new landing page.
7. Don't ignore Metadata
Metadata carries information about your website in HTML format. It includes the meta title, meta description, title tags, Google structured data, and canonical tags. Although, this information is not seen on your website, but it's essential, as the search engines need to know the relevance of your web content.
8. Prioritize the keyword research and optimization
Keyword optimization and content development are a part of on-page search engine optimization, but, that doesn't mean you should not include them in the technical SEO audit. You must always research for high-performance keywords and include them in your content so that the search engines can direct the relevant audience to your website. Additionally, ensure that your webpage is well optimized with relevant search suggestions and LSI keyboards to prevent search engine penalties.
9. Build a good navigation structure and site architecture
Users want a seamless navigation experience and if they do not get it, the chances to drop out increases. Besides encouraging users to spend more time on the website, good site architecture or navigation ensures that the search engine crawlers properly crawl your website and display it for the relevant search results. The following are the ways through which you can improve the website architecture.
Avoid content duplication.
Ensure the URL structure is SEO friendly.
Clearly map out the webpages for quick navigation.
Create a mobile-friendly website.
Speed up your site loading.
10. Use tags (title tags and H1 tags)
The title tag is something that displays on the search engine result page as a blue link as a title of your webpage. It should be catchy, spanning not more than 60 characters in length to get more clicks. Big title tags appear truncated on the SERP, thus, losing the relevance of the web topic.
While H1 is the first header or we should say a heading that appears on top of the blog post. It informs search engine bot and users, the context of your content. Here are some tips to get leverage the tags to the utmost extent.
Be particular while choosing the words in the title tag and H1 tag. The catchy and actionable terms invite more clicks.
Always use keywords in your headings.
Do not create lengthy and confusing H1 and do not use more than one H1 header per page.
Also Read: What is SEO?
Unleash the power of technical SEO with the best SEO services agency
You can expect the best outcomes, once you start practicing these self-audit technical SEO checks for your website. These strategies will help search engines to crawl your website and index it faster to reach maximum target audiences. In case you want to learn more or need SEO services from the best in the industry, we are always ready to assist you. Having us on-board, you will be assured of the best results in lesser time.